Farmville Habitat Attends Global Conference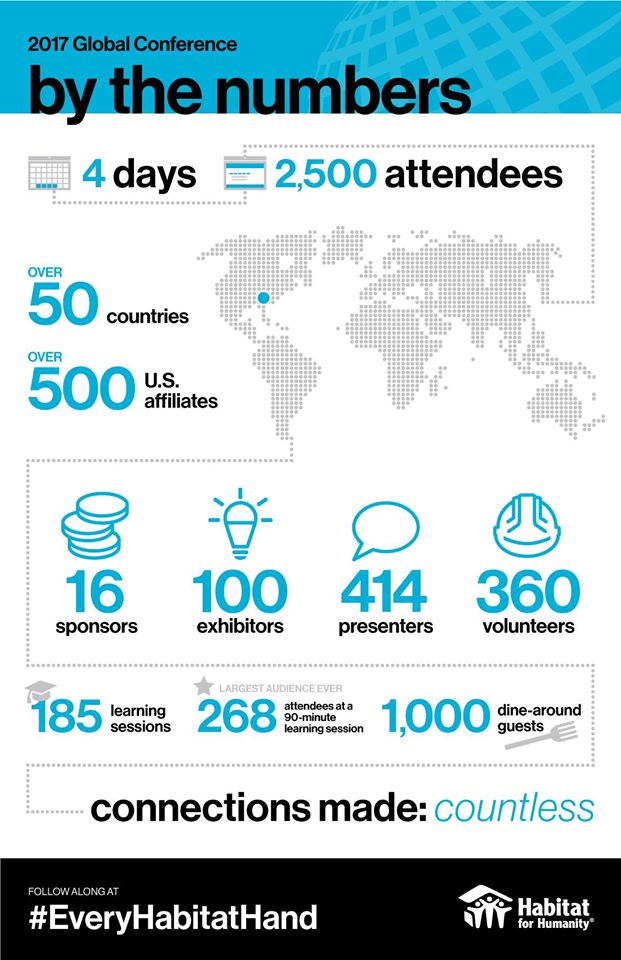 Infographic courtesy of Habitat for Humanity International
---
Recently, staff members from the Farmville Habitat attended the 2017 Habitat for Humanity Global Conference, the first of its kind since 2001. The event, which included over 2500 attendees from around the world, was held in Atlanta, GA near the headquarters for Habitat.  The four days of non-stop action included plenary sessions with tremendous speakers, including former President Jimmy Carter, a long-time champion for Habitat.  However, the speaker who received the most attention was definitely Dr. Tererai Trent, whose story of overcoming all obstacles in her pursuit of education was awe-inspiring.  Learn more about her here Tererai Trent.
The days were also filled with learning opportunities and plenty of chances to network with others who likewise embrace the vision of a world where everyone has a decent place to live.  The highlight for many was meeting so many of the international family, as over 50 countries were represented.  Hearing stories of how others address the quest for safe, decent, affordable housing in their own culture was an extremely enriching experience.  Coming together with so many from at home and abroad was a reminder of just how much of an impact Habitat has in over 70 countries worldwide and almost 1400 communities in the United States.
Sam Rabon, our Community Outreach Director, created some fun videos documenting each day.  They can be viewed here Farmville Area Habitat for Humanity YouTube.
This story was originally written April, 2017.